HIGH KNEE KNEWS
10/23/02
Let us know how the site redesign works for you. Due to space limitations, for the time being mp3s will only be available for one or two bands at a time. First up (haven't uploaded 'em yet) will be Ms. Dawn Rickles and Cheyntara.
10/19/02
Damn, the latest e-mail update from aquariusrecords.org ended with these two quotes:
"Why, of course the people don't want war ... but, after all, it is the leaders of the country who determine the policy, and it is always a simple matter to drag the people along, whether it is a democracy, or a fascist dictatorship, or a parliament or a communist dictatorship... voice or no voice, the people can always be brought to the bidding of the leaders. That is easy. All you have to do is to tell them they are being attacked, and denounce the pacifists for lack of patriotism and exposing the country to danger."
- Hermann Goering, at the Nuremburg trials
"Beware the leader who bangs the drums of war in order to whip the citizenry into a patriotic fervor, for patriotism is indeed a double-edged sword. It both emboldens the blood, just as it narrows the mind. And when the drums of war have reached a fever pitch and the blood boils with hate and the mind has closed, the leader will have no need in seizing the rights of the citizenry. Rather, the citizenry, infused with fear and blinded by patriotism, will offer up all of their rights unto the leader and gladly so. How do I know? For this is what I have done. And I am Caesar."
- Julius Caesar
I know opening my website with a war statement is very BonoStipe of me, but I'm very upset about George W. Bush's war-mongering. MR. BUSH, please, listen to me, aquariusrecords.org, the UN... WE DON'T WANT YOU TO DO IT.

There are new hours for High-Knee Radio a/k/a Blastitude, WHPK, 88.5 FM, Chicago: 6AM-8AM every other Thursday, starting on this Halloween morning with a special THEME show, featuring your guiding spirits The Shaggs with special appearances by The Cramps, 45 Grave, Nick Cave, Emperor, Black Sabbath, Blue Oyster Cult ("I Love The Night" and "Nosferatu" are both getting played), Destroy All Monsters, you know, scary bands. Playlists updated every two weeks.
Down to 2 copies of The SB/Cheyntara split tape. E-mail to buy or trade.
Cheyntara just got an excellent complement on their music. My new computer comes with Musicmatch Jukebox, and it has this feature that automatically 'categorizes' whatever mp3s you add to the player's "My Library" feature. I dumped in my entire mp3 collection, and most tracks were dubbed "Other," but occasionally the player knew what was what: Afrika Bambaata is "Hip Hop," Antibalas is "Funk," Mystikal is "Rap." Patti Smith and Robert Wyatt are "Rock." Sun City Girls? "Alternative." Magma? "Psychedelic Rock." Then, they start to get a little off: The Cramps are "Pop." Half Japanese aren't even "Rock," they're "General Rock." A couple are totally loopy: Stalk-Forrest Group is "Booty Bass," and Peaches is "Power Ballad." But, the loopiest of all is for Cheyntara themselves: "Drum Solo."
As promised, Cheyntara joined Arnoux, Human Abstract, and Noiseboat live onstage last weekend. Much thanks to the 3030 venue, a very nice and well-run place. Of course, only three people came to the show, and two of them lived downstairs. I guess five people were there if you count the event staff of two. And five more people played, and took turns watching each other until the end when they all played together. Because of 3030's lovely acoustics and professional recording setup, the event became less a performance than a bargain studio session.
10/01/02
On Friday, October 11th Matt Silcock will be joining Arnoux (a/k/a Lonnie Methe, ex-Naturaliste) for a jam or two when the Arnoux/Human Abstract/Noiseboat tour comes to Chicago. Show will be at the 3030 venue which is at 3030 West Cortland. More info here.
MCMS played in front of an audience for the second time in our 5-year career in NYC late August and it was a really good time. Many thanks to Russ Waterhouse and Kyle Lapidus. You can see a couple pictures from our set here. Still the best city I've ever been in. A Modern Day Venice x 1000. (To adjust for inflation.)
While in New York, Matt S. got 4 copies of a split cassette between The SB and Cheyntara, the most recent (and possibly last?) release on White Tapes. Featuring a side of The SB doing what they do, and a side of Cheyntara spacing out on a Jimi Hendrix song on saxophone underneath the Chicago freeway accompanied by non-stop heavy traffic. As always with White Tapes, the release is ultra-limited and ultra-nice to look at.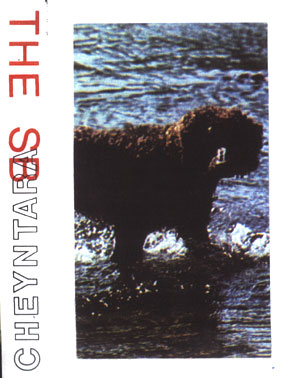 If you want one of my three extra copies, inquire about sale or trade.
8/18/02
MCMS is playing in NYC in just a few days on August 24th at the North Six Basement in Brooklyn. Come see us!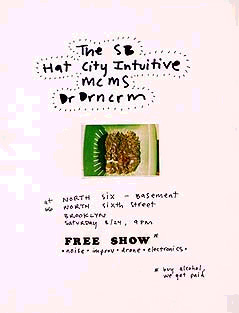 MCMS The Great Golden Hive of the Invisible lathe-cut double LP is now sold out from Eclipse Records. I believe Fusetron still has some copies....for $33! Holy s....!
More MCMS titles (early CD-Rs) stocked by Aquarius Records.
Last Visible Dog has revamped their website and are very much back in business at their new home of Providence, RI. Some good new releases coming down the pike, including their first ventures into real CDs!
Radio Blastitude playlists have been updated.

6/1/02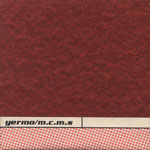 You can now get the Yermo/MCMS split CD-R The Womb That Gives Birth To Itself from Aquarius Records, who said this about the MCMS track: "M.C.M.S. offer probably the most beautiful drone piece I have ever heard. A chiming and gently clanging slow motion gamelan-scape with subtly booming sonic ripples and a mournful, lethargic funereal beat. So perfect." Thanks! We agree.
If you live south of the loop in Chicago or in Northwest Indiana, tune in every other Thursday morning 6AM-8AM to Radio Blastitude on WHPK 88.5 FM. Actually, tune in anytime, it's an incredible station. Sorry, no webcasting right now (or ever, if the FCC continues to be ridiculous).
Regarding the previous, a bunch of playlists have been added to the radio pages.
There's a new High-Knee Photo Gallery up.
Thanks to the recent upswing in the lathe economy, Eclipse Records is now in possession of 50 copies of The Great Golden Hive of the Invisible. This is a double-LP by MCMS, recorded in the summer of 2000. The sessions turned into an unintended seance with the spirit of German rock, the Ash Ra Tempel and Amon Duul I pastiches of sides 1 and 2 giving way to the deeply considered Popol Vuh worship of the title track, which takes up sides 3 and 4. There's some Funkadelic thrown in there for good measure, because after all, we're not German. We're not Afro-Americans in Detroit either, but you know. ANYWAY, all that needs to be done is the covers, so if you want a copy ask Ed now.
Now available from Freedom From





CHEYNTARA CD-R
"50+ minutes of amazing guitar improv n drone. Percussive elements aren't shadowed by an epic piece rivaling the Dead C.'s more beatiful guitar dirges." -- Freedom From
Now available from Public Eyesore





MATT SILCOCK 'solo music' CD-R
hard-core improv on electric guitar, acoustic guitar, alto sax, bass clarinet, and more. "if you are a fan of odd noise and f***ed song structures cash in your clams. you get it all on this one." -- I Am Cancer "Noisy, peculiar jams that are one part structure, one part pure improv, and one part found (or random) sound. Bizarre." -- Monotremata/Dead Angel
MATT SILCOCK INTERVIEWED IN NEW MAGAZINE
"The Continental"
published by Freedom From